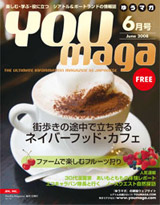 The ultimate information magazine in Japanese
YOUmaga, a free monthly lifestyle magazine chock-full of information on things to do and places to see in the greater Seattle and Portland areas, has a circulation of 15,000. It is available just about everywhere Japanese congregate, including the Uwajimaya supermarkets in Bellevue, Seattle and Oregon, a wide array of restaurants and leisure spots and select businesses. An ad in YOUmaga is a fast, affordable way to reach this well-to-do, well-educated slice of the Pacific Northwest population.
Some of the articles are available on the Internet.
http://www.youmaga.com/magazine/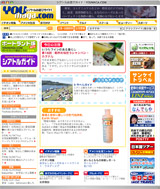 Youmaga.com
contains the magazine's contents plus a lot of its own unique articles and essays on life in the Northwest. It also contains extensive, up-to-date information on events and activities in the region. While YOUmaga magazine is aimed at Japanese already in the Northwest, YOUmaga.com, which draws around 600,000 page views every month, gets a significant chunk of its readership from Japan.
Advertise on YOUMAGA.com
Contact
sales@jeninc.com
Pick up a free copy of JENís publications at schools, restaurants and shops frequented by the Japanese, including the regionís Uwajimaya supermarkets:
Uwajimaya Supermarket
Bellevue store 15555 N. 24th, Bellevue, WA (425) 747-9012
Seattle store 600 5th Ave. S., Seattle, WA (206)624-6248
Oregon store 10500 SW Beaverton-Hillsdale Hwy., Beaverton, OR (503) 641-6240